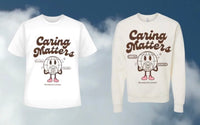 Caring Is Cool
Caring means you are choosing to make a positive impact, spreading love, & creating a better world for everyone. It's a reminder that even the smallest act of kindness can have a ripple effect, influencing & inspiring others to follow suit.
Join us in celebrating the power of caring. Purchase our Caring Is Cool T-shirt & Crewneck TODAY. 

PURCHASE HERE
It's more than just streetwear; it's a movement of good energy. It's a reminder to not be a product of your environment but to stand out, break barriers and encourage others to be their best self. We believe happiness comes from within and when you radiate that energy it's contagious.
We're really excited for everyone to see the exclusive collections we have coming this year.
-Liz & Chels